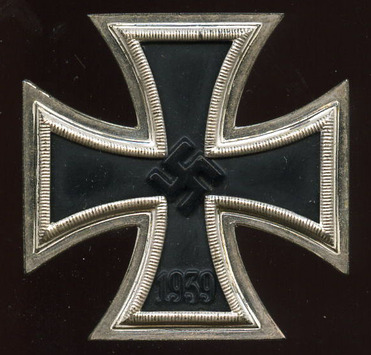 The Iron Cross of 1939 was a continuation of the Prussian award instituted in 1813 during the fight for liberation from Napoleon Bonaparte's France. All in all the Iron Cross was introduced three times before World War II; in 1813 during the aforementioned Prussian War of Liberation, in 1870 during the Franco-Prussian War, and in 1914 during the First World War. It was instituted in three classes (Second Class, First Class and Grand Cross), and rules specified that one must be in possession of the lower class before receiving the higher class. The Second Class was generally awarded for one act of bravery or merit while the First Class was awarded for multiple acts; usually three or more. The Grand Cross, however, was essentially in a class of its own in that it was generally awarded to only a handful of Prussia's most significant generals and leaders. The Iron Cross First and Second Class were created to award men for bravery or merit but, unlike most awards at the time, were available to all ranks rather than just officers. Awards of the Iron Cross were held in very high regard in Imperial Germany. However, by the middle of World War I, Germany was engaged in a massive struggle that resulted in far more awards of the Iron Cross than ever before. As the war dragged on, millions of awards were rendered - certainly for countless acts of heroism, but also as a band-aid for a grinding war. The Iron Cross remained a significant national symbol, but its reputation suffered.

By 1939, Prussia and Imperial Germany had been replaced by the Third Reich. War began with the German invasion of Poland and the Iron Cross was introduced for the fourth time. The criteria was essentially the same as before and a new cross, the Knight's Cross, was introduced along with the three existing classes. A strict awarding process was established and awarding began immediately as Germany overran Poland.

World War II became a colossal struggle and, similar to the First World War, millions of awards of bravery were ultimately made. From the opening shots in Poland in September 1939, through the victorious days of 1940, the massive battles on the Eastern Front during the mid-war years, and the total collapse of the Wehrmacht in 1945, millions of men were decorated for bravery or merit with the Iron Cross. These pages are an attempt to tell their stories.
---