As shown, this site exists to tell the stories of World War II, specifically the Iron Cross. On a related basis, the finest website on the web covering the history of the Iron Cross and World War I, is
The Kaiser's Cross
by Chris Boonzaier. His is an ever growing project which is surpassed by no one! Please visit his site, a monument to all soldiers who fought in the Great War, at
http://kaiserscross.com/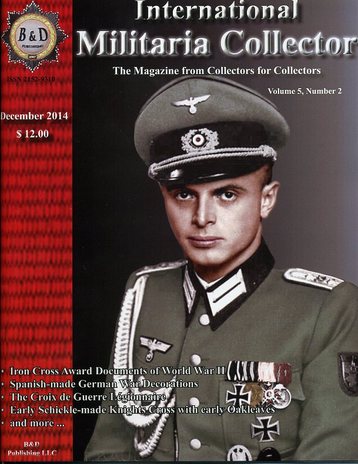 Other great publishers and researchers are out there as well. For the study of World War II, as well as additional studies of the First World War, nothing beats the following:
B&D Publishing
- Publishers of a whole array of militaria books as well the excellent magazine,
International Militaria Collector
. Please see the December 2014 issue which includes a study of the 1939 Iron Cross Award Document by Brian Razkauskas, as well as all of their books and previously published magazine issues, at
http://bdpublish.com/
Winidore Press
- Publishers of some of the best militaria books ever written including the famous title,
The Iron Time
by Stephen Previtera as well as titles covering Imperial Pilot's Badges, The Blue Max and Luftwaffe Badges and Flight Clasps at
http://winidorepress.com/
Leaping Horseman Books
- Publishers of the finest books about the Eastern Front in World War II. Authored primarily by Jason D. Mark, LHB offers well-written, in-depth studies of fighting the Red Army, primarily at Stalingrad in 1942-43.
http://www.leapinghorseman.com.au/
Defending Arnhem
- A website dedicated to the study of the Battle of Arnhem and Operation Market Garden. It features in-depth looks at the German Order of Battle, commanders, maps, veteran accounts and equipment, as well as a number of period documents and paperwork, including fine examples of Iron Cross Award Documents from the fighting in and around Arnhem.
http://www.defendingarnhem.com/
---